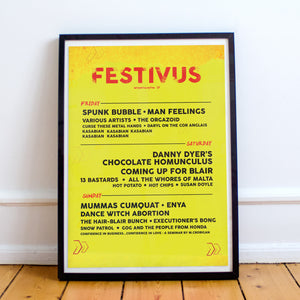 ► About
Grab yourself this special edition A3 poster print to commemorate the momentous occasion that was Wolverhampton Festivus 2018 - What a lineup! Needs more Cor Anglais...
► Specifications
High-Quality A3 Print Stock - Frame Not Included
297 x 420 mm
► Shipping & Returns
You can expect your order to arrive within 7 working days, but please allow up to 10 days for your order to arrive, you can read more about our Shipping Policy here.
We offer a 30-Day money-back guarantee, please read more about our Refund Policy here.