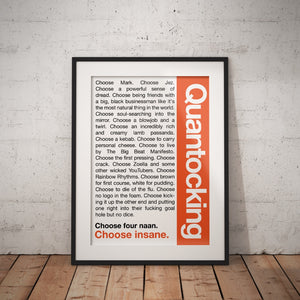 ► About
Choose Mark. Choose Jez.  Choose a powerful sense of dread. Choose being friends with a big, black businessman like it's the most natural thing in the world. Choose soul-searching into the mirror. Choose a blowjob and a twirl. Choose an incredibly rich and creamy lamb passanda. Choose a kebab. Choose to carry personal cheese. Choose to live by The Big Beat Manifesto. Choose the first pressing. Choose crack. Choose Zoella and some other wicked YouTubers. Choose Rainbow Rhythms. Choose brown for first course, white for pudding. Choose to die of the flu. Choose no logo in the foam. Choose kicking it up the other end and putting one right into their fucking goal hole but no dice.
► Specifications
High-Quality A3 Print Stock - Frame Not Included
297 x 420 mm
► Shipping & Returns
You can expect your order to arrive within 5-7 business days, but please allow up to 10 business days for your order to arrive before contacting us. Read our Shipping Policy to find out more.
We offer a 30-Day money-back guarantee, read our Refund Policy for details.